Boys & Girls (2000)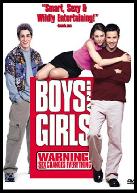 Film Facts
U.S. Release Date: 16th June 2000    
Running Time: 94 min
U.S. Classification: R              
Director: Robert Iscove
Starring: Freddie Prinze Jr. , Claire Forlani, Jason Biggs, Amanda Detmer, Alyson Hannigan, Monica Arnold, Heather Donahue, Lisa Eichhorn, Raquel Beaudene.

Taglines:
* Opposites Attack
* Warning: SEX Changes Everything

Freddie Prinze Jr
Buy This at Allposters.com
Vintage VHS Synopsis
Ryan (Freddie Prinze, Jr.) and Jennifer (Claire Forlani) are total opposites--Ryan is a geeky control freak, Jennifer outspoken and free-spirited--who met and hated each other when they were kids. After crossing paths at college, they become close friends, but will taking their relationship further ruin their friendship? Heather Donahue and Jason Biggs also star in this winning romantic comedy.

Freddie Prinze Jr.
Buy This at Allposters.com

Tony's Comments
"Boys & Girls" is a romantic teen comedy starring Freddie Prinze Jr. & Claire Forlani as two students, Jennifer & Ryan who had a love/hate relationship in their early childhood but when they are reunited in their later college years, true love begins to blossom. Made on a budget of $16 million dollars "Boys & Girls" grossed over $20 million at the US box office. Look out for American Pie star Jason Biggs, complete with bleached hair, in a support role as Freddie's best friend.

Freddie Prinze Jr
Buy This at Allposters.com
Boys And Girls on DVD & CD

Claire Forlani
Buy This at Allposters.com
***** HTM Exclusive Videos *****
Top 10 Teen Stars of 2011
Who are the "Top 10 Teen Stars Of Today"? "Twilight" stars Kristen Stewart, Robert Pattinson & Taylor Lautner are just some of the fascinating personalities featured, but who are the other 7 stars? Find out who they are by checking out our selection in this "Exclusive Countdown Video". Now Showing here & on our YouTube Channel.
"Celebrating The 80s" - Official Book Trailer
"Teen Movies Needed Some Long Overdue Respect" - Hollywood Teen Movies celebrates the 1980s & 10 fantastic years online with this Official promo for the new book "Hollywood Teen Movies 80 from the 80s - The Good The Bad & The Forgotten". Hope you enjoy this nostalgic trip back to arguably "the greatest decade in teen movie history". The images, the fashion, the sound, the stars, the movies & of course the book are all captured in this visual extravaganza that is pure 80s Movie Magic at its very best! This Exclusive 80s flashback video is Now Showing on this page (play button below) and on our YouTube Channel. Come on shout and breakout as we go back to re-live all the memories of the totally awesome 80s.....
Celebrating 10 Years Online
www.hollywoodteenmovies.com has been around now for over 10 years. To celebrate our anniversary year we have created 2 special promo videos that capture the essence of teen movies throughout the decades. Sit back, relax and let the memories flashback as we take you on 2 different journeys through 70 amazing years of teen movies. Video 1 titled "Hollywood Teen Movies 70 Years Of Memories" is a pictorial cavalcade of teen movies from the 1940s to the new millennium. Video 2 titled "Teenager in Love" focuses on the romance element that is prevalent in many of the great teen movies. These Exclusive videos are Now Showing on this site & on our YouTube Channel. Enjoy the rides.....
70 Years of Memories
Teenager In Love
Quick Movie & Actor Search
A to Z Movie Search:

A B C D E F G H I J K L M N O P Q R S T U V W X Y Z

A to Z Actor Search:

A B C D E F G H I J K L M N O P Q R S T U V W X Y Z
**********************************************************************************************
Hollywood Teen Movies Blog Spot / Messageboard:
Click here to have your say or see what others are saying
Use The Search Bar Below To Find Your Favorite Movies:
Thanks for visiting Hollywood Teen Movies
Please feel free to sign our Guestbook:
HTM has a new look, a new blog, a new book & a new channel
Visit our pages: Latest Teen Movies & Hottest New Stars
© Copyright Hollywood Teen Movies. All rights reserved.
*********************************************************************************************