Cut (2000)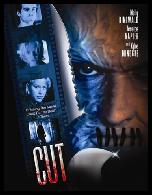 Film Facts
Australian. Release Date: 2nd March 2000    
Running Time: 82 min
U.S. Classification: R              
Director: Kimble Rendall
Starring: Molly Ringwald, Frank Roberts, Kylie Minogue, Geoff Revell, Jessica Napier, Sarah Kants, Stephen Curry, Matt Russell, Erika Walters, Cathy Adamek, Steve Greig, Sam Lewis, Paul Blackwell, Scott Heysen, Don Barker.

Taglines:
* Warning: Movies can kill
* They just have to finish the film... before it finishes them

Molly Ringwald
Buy This at Allposters.com
Tony's Comments
"Cut" is an Australian supernatural thriller made to cash in on the hugely successful run of teen slasher flicks such as "Scream", "I Know What You Did Last Summer" & "Urban Legend". The film tells the story of a group of students who attempt to complete the unfinished horror film "Hot Blooded". The film has been on the shelf for 12 years following the vicious murder of its director. Rumour has it that the film is cursed & anyone who attempts to complete it will die. This time round the filmmakers have recruited 80's teen queen Molly Ringwald to appear as the heroine. Pop star Kylie Minogue also makes a small cameo appearance as the ill-fated film director. The film is certainly not for the faint hearted as many of the death sequences are graphically depicted. "Cut" is a gruesome, ultra-violent slasher flick that should appeal to hardcore horror fans.

Kylie Minogue
Buy This at Allposters.com
Cut on DVD

Cut (2000) [DVD]
The grisly murder of the director of a horror film cancels the production. After a 14-year hiatus, some film students decide to finish the movie despite its unsettling reputation, convincing the old star to come aboard and face her fears. However, when the new crew starts disappearing, the kids must get to the bottom of this horrifying mystery. Molly Ringwald and Jessica Napier star. 82 min. Widescreen; Soundtrack: English Dolby stereo; Subtitles: English, French, Spanish; theatrical trailer.

Molly Ringwald
Buy This at Allposters.com

***** HTM Exclusive Videos *****
Top 10 Teen Stars of 2011
Who are the "Top 10 Teen Stars Of Today"? "Twilight" stars Kristen Stewart, Robert Pattinson & Taylor Lautner are just some of the fascinating personalities featured, but who are the other 7 stars? Find out who they are by checking out our selection in this "Exclusive Countdown Video". Now Showing here & on our YouTube Channel.
"Celebrating The 80s" - Official Book Trailer
"Teen Movies Needed Some Long Overdue Respect" - Hollywood Teen Movies celebrates the 1980s & 10 fantastic years online with this Official promo for the new book "Hollywood Teen Movies 80 from the 80s - The Good The Bad & The Forgotten". Hope you enjoy this nostalgic trip back to arguably "the greatest decade in teen movie history". The images, the fashion, the sound, the stars, the movies & of course the book are all captured in this visual extravaganza that is pure 80s Movie Magic at its very best! This Exclusive 80s flashback video is Now Showing on this page (play button below) and on our YouTube Channel. Come on shout and breakout as we go back to re-live all the memories of the totally awesome 80s.....
Celebrating 10 Years Online
www.hollywoodteenmovies.com has been around now for over 10 years. To celebrate our anniversary year we have created 2 special promo videos that capture the essence of teen movies throughout the decades. Sit back, relax and let the memories flashback as we take you on 2 different journeys through 70 amazing years of teen movies. Video 1 titled "Hollywood Teen Movies 70 Years Of Memories" is a pictorial cavalcade of teen movies from the 1940s to the new millennium. Video 2 titled "Teenager in Love" focuses on the romance element that is prevalent in many of the great teen movies. These Exclusive videos are Now Showing on this site & on our YouTube Channel. Enjoy the rides.....
70 Years of Memories
Teenager In Love
Quick Movie & Actor Search
A to Z Movie Search:

A B C D E F G H I J K L M N O P Q R S T U V W X Y Z

A to Z Actor Search:

A B C D E F G H I J K L M N O P Q R S T U V W X Y Z
**********************************************************************************************
Hollywood Teen Movies Blog Spot / Messageboard:
Click here to have your say or see what others are saying
Use The Search Bar Below To Find Your Favorite Movies:
Thanks for visiting Hollywood Teen Movies
Please feel free to sign our Guestbook:
HTM has a new look, a new blog, a new book & a new channel
Visit our pages: Latest Teen Movies & Hottest New Stars
© Copyright Hollywood Teen Movies. All rights reserved.
*********************************************************************************************