Chronicle (2012)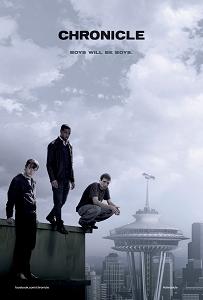 In A Nutshell: "Intriguing "found footage" film in the style of "Blair Witch" & "Cloverfield". Love it or hate it, teens with superpowers
always grab audience attention". - Tony Pichaloff
© Copyright Hollywood Teen Movies. All rights reserved.
Film Facts
U.S. Release Date: 3rd February 2012    
Running Time: 83 min
U.S. Classification: R              
Director: Josh Trank
Starring: Michael B, Jordan, Michael Kelly, Alex Russell, Dane DeHaan

Tagline: What are you capable of?
Brief Synopsis: Three high school friends gain superpowers after making an incredible discovery. Soon, though, they find their lives spinning out of control and their bond tested as they embrace their darker sides.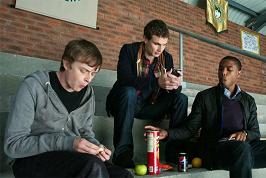 Cinema Synopsis #1
American independent film, relayed in 'found-footage' style (like Paranormal Activity or Blair Witch) about three mates who discover a mysterious substance that grants them superpowers. At first they have fun toying around with their new super-abilities. However, things soon take a serious turn when one of the three embraces his darker side. Stars Michael B. Jordan (Wallace from HBO's The Wire).
Cinema Synopsis #2
New technologies and social communities allow us to record, post and comment on every second of our lives, sharing our every emotion and opinion with the world, no matter how mundane. For three high school classmates who suddenly gain superpowers from a mysterious substance, the chronicle of their ordinary lives is about to take on extraordinary turn. Initially they use their powers to play innocent pranks on each other and people around them, but soon they gain confidence and learn to control their powers better to take on more difficult tasks. Their newfound sense of immortality and impunity will force them to evaluate their own morality to ultimately decide where to draw the line about how far they should go.
"Blair Witch" & "Cloverfield" on DVD
The Blair Witch Project (1999) [Blu-ray]
The ultra-scary, low-budget horror hit that traces the disappearance of three college students in rural Maryland in 1994 while filming a documentary about the region's fabled Blair Witch. What unfolds, through the surviving footage found of their expedition, is a series of unsettling experiences that become more frightening the more the trio learn and the further they go. With Heather Donohue, Michael Williams and Joshua Leonard. 87 min. Widescreen (Enhanced); Soundtrack: English Dolby Digital stereo; alternate ending; audio commentary; bonus footage.
The Blair Witch Project (1999) [DVD]
Soundtrack: English Dolby Digital stereo; audio commentary; biographies; bonus footage; bonus short "Curse of the Blair Witch"; DVD-ROM content; featurette; production notes; theatrical trailers.
Cloverfield (2008) [Blu-ray]
A normal evening in Manhattan becomes a fight for survival when a gigantic, horrific monster of unknown origin begins decimating the city. Surrounded by panic and fear, a young man leads a small group of his friends on a desperate trek across town to rescue the woman he loves, their daring journey documented on a hand-held digital video camera that provides a harrowing first-person perspective. Michael Stahl-David, Jessica Lucas, Odette Yustman, Lizzy Caplan, T.J. Miller star. 84 min. Widescreen; Soundtracks: English TrueHD 5.1, French Dolby Digital 5.1, Spanish Dolby Digital 5.1; Subtitles: English (SDH), French, Portuguese, Spanish; audio commentary; featurettes; deleted scenes; alternate endings.
Cloverfield (2008) [DVD]
***** HTM Exclusive Videos *****
Top 10 Teen Stars of 2011
Who are the "Top 10 Teen Stars Of Today"? "Twilight" stars Kristen Stewart, Robert Pattinson & Taylor Lautner are just some of the fascinating personalities featured, but who are the other 7 stars? Find out who they are by checking out our selection in this "Exclusive Countdown Video". Now Showing here & on our YouTube Channel.
"Celebrating The 80s" - Official Book Trailer
"Teen Movies Needed Some Long Overdue Respect" - Hollywood Teen Movies celebrates the 1980s & 10 fantastic years online with this Official promo for the new book "Hollywood Teen Movies 80 from the 80s - The Good The Bad & The Forgotten". Hope you enjoy this nostalgic trip back to arguably "the greatest decade in teen movie history". The images, the fashion, the sound, the stars, the movies & of course the book are all captured in this visual extravaganza that is pure 80s Movie Magic at its very best! This Exclusive 80s flashback video is Now Showing on this page (play button below) and on our YouTube Channel. Come on shout and breakout as we go back to re-live all the memories of the totally awesome 80s.....
Celebrating 10 Years Online
www.hollywoodteenmovies.com has been around now for over 10 years. To celebrate our anniversary year we have created 2 special promo videos that capture the essence of teen movies throughout the decades. Sit back, relax and let the memories flashback as we take you on 2 different journeys through 70 amazing years of teen movies. Video 1 titled "Hollywood Teen Movies 70 Years Of Memories" is a pictorial cavalcade of teen movies from the 1940s to the new millennium. Video 2 titled "Teenager in Love" focuses on the romance element that is prevalent in many of the great teen movies. These Exclusive videos are Now Showing on this site & on our YouTube Channel. Enjoy the rides.....
70 Years of Memories
Teenager In Love
Quick Movie & Actor Search
A to Z Movie Search:

A B C D E F G H I J K L M N O P Q R S T U V W X Y Z

A to Z Actor Search:

A B C D E F G H I J K L M N O P Q R S T U V W X Y Z
**********************************************************************************************
Hollywood Teen Movies Blog Spot / Messageboard:
Click here to have your say or see what others are saying
Use The Search Bar Below To Find Your Favorite Movies:
Thanks for visiting Hollywood Teen Movies
Please feel free to sign our Guestbook:
HTM has a new look, a new blog, a new book & a new channel
Visit our pages: Latest Teen Movies & Hottest New Stars
© Copyright Hollywood Teen Movies. All rights reserved.
*********************************************************************************************