Crazy / Beautiful (2001)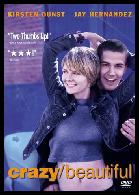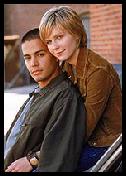 Film Facts
U.S. Release Date: 29th June 2001    
Running Time: 99 min
U.S. Classification: PG-13              
Director: John Stockwell
Starring: Kirsten Dunst, Jay Hernandez, Bruce Davison, Herman Osorio, Miguel Castro, Tommy De La Cruz, Rolando Molina, Soledad St. Hilaire, Lucinda Jenney, Taryn Manning, Richard Steinmetz, Mike Jones, Ana Argueta, Neil Looy, Marion Moseley.
Tagline: When it's real. When it's right. Don't let anything stand in your way.

Kirsten Dunst
Buy This at Allposters.com
Tony's Comments
"Crazy / Beautiful" puts Kirsten Dunst's acting talents to the test in this highly charged emotional teen drama. Dunst plays an emotionally disturbed schoolgirl, on the edge, as a result of her mother's suicide. She is rich, wild, crazy, undisciplined and on the road to self-destruction until she meets up with a poor, hard-working, athletic and responsible Latino boy (Jay Hernandez) from the wrong side of town. He is everything she's not but as they say sometimes opposites attract. This outstanding teen film features superb performances from the entire cast, particularly the two lovers. The emotionally charged portrayals of their characters are flawless and so natural that you don't feel for a second that they are acting. This gritty real-life drama almost plays like a documentary. It is complemented by excellent photography that makes good use of real locations and real people.
"Crazy / Beautiful" is a romantic teen movie with substance, without all the fluff, a rarity amongst today's contemporary teen comedies which go more for comedic gags and shock value. On watching "Crazy / Beautiful" I couldn't help but be reminded of the Julia Stiles movie "Save The Last Dance" which also deals with class differences, cultural conflicts and inter-racial relationships. "Crazy / Beautiful" is a real drama about real people and it hasn't been done this well in a long time, it is engaging and ultimately uplifting.

Kirsten Dunst
Buy This at Allposters.com
Crazy / Beautiful on DVD

Crazy/Beautiful (2001) [DVD]
Kirsten Dunst, the teenage daughter of WASPy congressman Bruce Davison, has a bad attitude and a serious drinking problem. Jay Hernandez is a poor Hispanic teen who hopes to become a Navy pilot. After meeting on the beach, they begin a relationship, but soon find it threatened by their parents' interference and Dunst's alcohol abuse. Lucinda Jenney and Rolando Molina also star. 99 min. Widescreen (Enhanced); Soundtracks: English Dolby Digital 5.1, DTS 5.1, French Dolby Digital stereo; Subtitles: Spanish, French; "making of" featurette; deleted scenes; theatrical trailer; audio commentary.
Crazy / Beautiful DVD & CDs

Kirsten Dunst
Buy This at Allposters.com
***** HTM Exclusive Videos *****
Top 10 Teen Stars of 2011
Who are the "Top 10 Teen Stars Of Today"? "Twilight" stars Kristen Stewart, Robert Pattinson & Taylor Lautner are just some of the fascinating personalities featured, but who are the other 7 stars? Find out who they are by checking out our selection in this "Exclusive Countdown Video". Now Showing here & on our YouTube Channel.
"Celebrating The 80s" - Official Book Trailer
"Teen Movies Needed Some Long Overdue Respect" - Hollywood Teen Movies celebrates the 1980s & 10 fantastic years online with this Official promo for the new book "Hollywood Teen Movies 80 from the 80s - The Good The Bad & The Forgotten". Hope you enjoy this nostalgic trip back to arguably "the greatest decade in teen movie history". The images, the fashion, the sound, the stars, the movies & of course the book are all captured in this visual extravaganza that is pure 80s Movie Magic at its very best! This Exclusive 80s flashback video is Now Showing on this page (play button below) and on our YouTube Channel. Come on shout and breakout as we go back to re-live all the memories of the totally awesome 80s.....
Celebrating 10 Years Online
www.hollywoodteenmovies.com has been around now for over 10 years. To celebrate our anniversary year we have created 2 special promo videos that capture the essence of teen movies throughout the decades. Sit back, relax and let the memories flashback as we take you on 2 different journeys through 70 amazing years of teen movies. Video 1 titled "Hollywood Teen Movies 70 Years Of Memories" is a pictorial cavalcade of teen movies from the 1940s to the new millennium. Video 2 titled "Teenager in Love" focuses on the romance element that is prevalent in many of the great teen movies. These Exclusive videos are Now Showing on this site & on our YouTube Channel. Enjoy the rides.....
70 Years of Memories
Teenager In Love
Quick Movie & Actor Search
A to Z Movie Search:

A B C D E F G H I J K L M N O P Q R S T U V W X Y Z

A to Z Actor Search:

A B C D E F G H I J K L M N O P Q R S T U V W X Y Z
**********************************************************************************************
Hollywood Teen Movies Blog Spot / Messageboard:
Click here to have your say or see what others are saying
Use The Search Bar Below To Find Your Favorite Movies:
Thanks for visiting Hollywood Teen Movies
Please feel free to sign our Guestbook:
HTM has a new look, a new blog, a new book & a new channel
Visit our pages: Latest Teen Movies & Hottest New Stars
© Copyright Hollywood Teen Movies. All rights reserved.
*********************************************************************************************