Evil Woman (2001)

aka Saving Silverman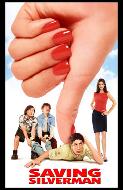 In A Nutshell: "Never a dull-moment in this chaotic comedy that offers big laughs, energy to burn & a forever tuneful Neil Diamond".
- Tony Pichaloff
© Copyright Hollywood Teen Movies. All rights reserved.

Film Facts
US Release Date: 9th February 2001
Running Time: 90 min
US Classification: PG-13
Director: Dennis Dugan
Starring: Jason Biggs, Steve Zahn, Jack Black, Amanda Peet, Amanda Detmer, R. Lee Ermey, Neil Diamond
Taglines:
* From the director of "Big Daddy".
* They swore nothing could come between them. Then she came along.
* 2 Best Friends + 1 Girlfriend = WAR

Jason Biggs
Buy This at Allposters.com

Tony's Comments (2001)
In February 2001, I saw a poster in my local cinema for a film starring Jason Biggs titled "Saving Silverman". Months later the "Saving Silverman" poster was taken down & replaced with another poster for a film titled "Evil Woman", again starring Jason Biggs. Different poster, different pictures, different title, same cast, "Saving Silverman" had in fact been retitled to "Evil Woman" in certain countries around the world. Months later even the poster for "Evil Woman" vanished. Then in December 2001 I spotted in the newspaper that "Evil Woman" was finally given a release but unfortunately not at my local cinema. The closet cinema to me that was screening it was about 50km away. So if I wanted to see it, I would have to travel 100km all told. I don't know why but for some strange reason I still wanted to see this film. So I decided, what the heck, I'll travel out there & see what it's like. "Evil Woman" was being screened only three times a day. I decided I would go to the first session, early in the morning.

Well I must say, I had a very good time watching "Evil Woman", although not exactly a film you would call high-art, but nevertheless an entertaining way to spend 90 minutes or so in the cinema. The film is directed by Dennis Dugan of "Happy Gilmore" & "Big Daddy" fame & stars Jason Biggs the hot new teen star who has appeared in the teen sex comedies "American Pie", "Boys & Girls", "Loser" & "American Pie 2". To add to the fun Steve Zahn (Out of Sight, Riding in Cars with Boys) & Jack Black, who had a star making turn in John Cusack's "High Fidelity" are along for the bumpy ride.

"Saving Silverman" focuses on the lives of three male friends Jason Biggs, Steve Zahn & Jack Black. The boys have known each other since high school. All three have the same taste in music, which is, their passion for Neil Diamond. They even perform together in a two-bit Neil Diamond tribute band called "The Diamonds".

The problems begin when Jason Biggs starts a relationship with Judith (Amanda Peet of "The Whole Nine Yards" fame). She immediately stops Biggs from socialising with his best friends, making him quit the band & even destroying his collection of Neil Diamond records. She even talks Biggs in to marriage & to accepting her last name, other than his, when they wed.

Things get outrageously out of control, when buddies Zahn & Black are not invited to their engagement party. They begin to fear that Biggs' fiancée is destroying their relationship with their best friend. The duo decide that the best thing to do is to kidnap her & convince Biggs she is dead, making out that she killed herself by driving over a cliff. Zahn & Black then decide to set Biggs up with an old friend from his school days, Sandy Perkus, played delightfully by Amanda Detmer. The boys believe that if Biggs falls in love with Sandy, she would be more accepting of them & life would return back to normal, with the three buddies best friends again. The problem however, is that Sandy is studying to become a nun & Biggs is still suffering from the make-believe death of his fiancée. Biggs is now faced with the dilemma of making a commitment to Sandy before she makes a commitment to enter the nunnery.

Jack Black & Steve Zahn are perfect comic foils for each other, as they bumble through the kidnapping & turn it into a nightmare. Throw into the mix their former high school coach (R. Lee Ermery) who has just broken out of prison & you have some truly mad-cap chemistry going on.

Neil Diamond fans unite. You will be pleased to know that Neil Diamond does appear in the film. He plays himself & sings a few songs. The end credit sequence has Neil on stage with cast members Biggs, Zahn & Black having fun singing up a storm.

Director Dennis Dugan does what he does best, provides enough silly laughs & slapstick to make most viewers happy. If you're looking for a mixed bag of laughs watch "Evil Woman" or should I say "Saving Silverman".

Amanda Detmer
Buy This at Allposters.com
Film Synopsis
They've sworn to save Silverman. 2 Best Friends + 1 Girlfriend = War!
Darren (Jason Biggs 'American Pie 1 & 2'), Wayne (Steve Zahn 'Riding in Cars with Boys') and JD (Jack Black 'Shallow Hal') have been inseparable friends and insufferable losers since fifth grade. Now they're in their sexual prime but still find it hard to pull the chicks - being in a Neil Diamond tribute band called 'Diamonds in the Rough' might have something to do with this.
Then one day Darren meets the woman of his dreams - Judith (Amanda Peet) is smart, hot, horny and a handful - she definitely wears the pants in the relationship. But Darren's buddies see past her perfect body and brilliant mind; and what they see is Hannibal Lector. So how far will they go to save their best friend from marrying this ball-breaking, ass-kicking evil woman?
Bound, kidnapped and hogtied, she proves that one smart woman is more than a match for two bumbling idiots with a plan but without a clue.
Uproariously funny, off-beat and twisted, EVIL WOMAN is the year's freshest gross-out comedy from the Director of 'Big Daddy' and 'Happy Gilmore' and features an hilarious cameo performance from the legendary Neil Diamond.

Amanda Peet
Buy This at Allposters.com
Saving Silverman on DVD
Saving Silverman (PG-13 Version) (2001) [DVD]
Hilarity abounds when Jack Black and Steve Zahn learn their pal and bandmate Jason Biggs is about to get hitched to bitchy psychiatrist Amanda Peet. In order the stop the marriage plans, Black and Zahn plot to kidnap Peet, then have Biggs reacquaint himself with old flame Amanda Detmer, who's about to become a nun. But when this scheme goes awry, they count on their idol--the one and only Neil Diamond--to help them out. R. Lee Ermey also stars. Original, theatrical PG-13 version; 92 min. Widescreen (Enhanced); Soundtracks: English Dolby Digital 5.1, Dolby Digital Surround; Subtitles: English, French; audio commentary; filmographies; outtakes; outtakes; theatrical trailer.

Neil Diamond
Buy This at Allposters.com
Neil Diamond on Blu-Ray & DVD
Neil Diamond: Hot August Night NYC (2009) [Blu-ray]
Recorded live at Madison Square Garden, this concert from Neil Diamond features a career-spanning assortment of hits. Join Diamond as he thrills the New York City crowd with such classics as "Street Life," "Cherry, Cherry," "I Am...I Said," "Solitary Man," "Forever in Blue Jeans," "Sweet Caroline," "Song Sung Blue," "I'm a Believer," a show-stopping rendition of "America," and many more. 143 min. Widescreen; Soundtracks: English Dolby TrueHD 5.1, LPCM stereo; featurette.
Neil Diamond: Greatest Hits Live (1988) [DVD]
It's the world's hardest substance, and while you can't cook on it, this Diamond has been creating musical gems for decades. Wonderful concert features Neil performing hits old and new: "America," "September Morn," "Cherry Cherry," "Hello Again," "Heartlight" and many more. 60 min. Standard; Soundtracks: English Dolby Digital 5.1, Dolby Digital stereo; song access.
Neil Diamond: The Thank You Australia Concert: Live 1976 [DVD]
Travel down under for an unforgettable concert from Neil Diamond in which he showcases his appreciation for his Australian fanbase by performing his biggest hits. Selections include "Solitary Man," "Cherry Cherry," "Sweet Caroline," "Song Sung Blue," "I Am...I Said," "Skybird," "Lonely Looking Sky," "Salvation Show," "I've Been This Way Before," and more. 177 min. Standard; Soundtrack: English Dolby Digital stereo; Subtitles: English, Dutch, French, Italian, Portuguese, Spanish; bonus footage; interview; photo gallery.
***** HTM Exclusive Videos *****
Top 10 Teen Stars of 2011
Who are the "Top 10 Teen Stars Of Today"? "Twilight" stars Kristen Stewart, Robert Pattinson & Taylor Lautner are just some of the fascinating personalities featured, but who are the other 7 stars? Find out who they are by checking out our selection in this "Exclusive Countdown Video". Now Showing here & on our YouTube Channel.
"Celebrating The 80s" - Official Book Trailer
"Teen Movies Needed Some Long Overdue Respect" - Hollywood Teen Movies celebrates the 1980s & 10 fantastic years online with this Official promo for the new book "Hollywood Teen Movies 80 from the 80s - The Good The Bad & The Forgotten". Hope you enjoy this nostalgic trip back to arguably "the greatest decade in teen movie history". The images, the fashion, the sound, the stars, the movies & of course the book are all captured in this visual extravaganza that is pure 80s Movie Magic at its very best! This Exclusive 80s flashback video is Now Showing on this page (play button below) and on our YouTube Channel. Come on shout and breakout as we go back to re-live all the memories of the totally awesome 80s.....
Celebrating 10 Years Online
www.hollywoodteenmovies.com has been around now for over 10 years. To celebrate our anniversary year we have created 2 special promo videos that capture the essence of teen movies throughout the decades. Sit back, relax and let the memories flashback as we take you on 2 different journeys through 70 amazing years of teen movies. Video 1 titled "Hollywood Teen Movies 70 Years Of Memories" is a pictorial cavalcade of teen movies from the 1940s to the new millennium. Video 2 titled "Teenager in Love" focuses on the romance element that is prevalent in many of the great teen movies. These Exclusive videos are Now Showing on this site & on our YouTube Channel. Enjoy the rides.....
70 Years of Memories
Teenager In Love
**********************************************************************************************
*********************************************************************************************