Easy A (2010)

Easy A
Buy This at Allposters.com

In A Nutshell: "A comedic triumph! Emma Stone delivers in this rumor-filled delight that bursts with energy, wit & freshness".
- Tony Pichaloff
© Copyright Hollywood Teen Movies. All rights reserved.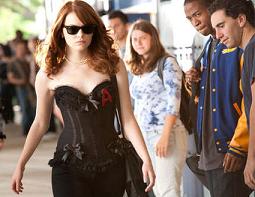 Film Facts
U.S. Release Date: 17th September 2010    
Running Time: 92 min
U.S. Classification: PG-13              
Director: Will Gluck
Starring: Emma Stone, Amanda Bynes, Penn Badgley, Thomas Haden Church, Cam Gigandet, Lisa Kudrow, Malcolm McDowell, Stanley Tucci, Patricia Clarkson

Amanda Bynes
Buy This at Allposters.com

Taglines & Trivia

Taglines:
* Let's not and say we did.
* The rumor-filled totally FALSE account of how I ruined my flawless reputation
Trivia:
* The original script apparently used saltier language and was edited to comply with the PG-13 rating standards.

Amanda Bynes
Buy This at Allposters.com

Film Synopsis
In this charming, critically acclaimed tale of rumors and reputation, Olive (Emma Stone), an average high school student, sees her below-the-radar existence turn around overnight once she decides to use the school's gossip grapevine to advance her social standing. Now her classmates (Amanda Bynes, Aly Michalka) are turning against her and the school board is becoming concerned, including her favorite teacher (Thomas Haden Church) and the distracted guidance counselor (Lisa Kudrow). With the support of her hilariously idiosyncratic parents (Stanley Tucci, Patricia Clarkson) and a little help from a long-time crush (Penn Badgley), Olive attempts to take on her notorious new identity and crush the rumor mill once and for all.

Amanda Bynes
Buy This at Allposters.com
Easy A on Blu-ray & DVD

Easy A (2010) [Blu-ray]
Olive (Emma Stone) is an unpopular high school student who doesn't want to admit spending the weekend alone, so she lies about losing her virginity. When word gets around school, Olive finds her reputation transformed and uses it to her advantage. However, what will happen when she finds her life resembling that of Hester Prynne, the heroine of Nathaniel Hawthorne's "The Scarlet Letter"? Amanda Bynes, Dan Byrd, and Patricia Clarkson co-star. 92 min. Widescreen (Enhanced); Soundtracks: English Dolby Digital 5.1, French Dolby Digital 5.1, Portuguese Dolby Digital 5.1, Spanish Dolby Digital 5.1; Subtitles: English (SDH), French, Portuguese, Spanish; gag reel; auditions; music video; trivia; more.
Easy A (2010) [DVD]
Amanda Bynes DVD Collection
Click here for Amanda Bynes Movies on DVD
Amanda Bynes Recommended Link
Amanda Bynes at Hollywood Brunettes
***** HTM Exclusive Videos *****
Top 10 Teen Stars of 2011
Who are the "Top 10 Teen Stars Of Today"? "Twilight" stars Kristen Stewart, Robert Pattinson & Taylor Lautner are just some of the fascinating personalities featured, but who are the other 7 stars? Find out who they are by checking out our selection in this "Exclusive Countdown Video". Now Showing here & on our YouTube Channel.
"Celebrating The 80s" - Official Book Trailer
"Teen Movies Needed Some Long Overdue Respect" - Hollywood Teen Movies celebrates the 1980s & 10 fantastic years online with this Official promo for the new book "Hollywood Teen Movies 80 from the 80s - The Good The Bad & The Forgotten". Hope you enjoy this nostalgic trip back to arguably "the greatest decade in teen movie history". The images, the fashion, the sound, the stars, the movies & of course the book are all captured in this visual extravaganza that is pure 80s Movie Magic at its very best! This Exclusive 80s flashback video is Now Showing on this page (play button below) and on our YouTube Channel. Come on shout and breakout as we go back to re-live all the memories of the totally awesome 80s.....
Celebrating 10 Years Online
www.hollywoodteenmovies.com has been around now for over 10 years. To celebrate our anniversary year we have created 2 special promo videos that capture the essence of teen movies throughout the decades. Sit back, relax and let the memories flashback as we take you on 2 different journeys through 70 amazing years of teen movies. Video 1 titled "Hollywood Teen Movies 70 Years Of Memories" is a pictorial cavalcade of teen movies from the 1940s to the new millennium. Video 2 titled "Teenager in Love" focuses on the romance element that is prevalent in many of the great teen movies. These Exclusive videos are Now Showing on this site & on our YouTube Channel. Enjoy the rides.....
70 Years of Memories
Teenager In Love
Quick Movie & Actor Search
A to Z Movie Search:

A B C D E F G H I J K L M N O P Q R S T U V W X Y Z

A to Z Actor Search:

A B C D E F G H I J K L M N O P Q R S T U V W X Y Z
**********************************************************************************************
Hollywood Teen Movies Blog Spot / Messageboard:
Click here to have your say or see what others are saying
Use The Search Bar Below To Find Your Favorite Movies:
Thanks for visiting Hollywood Teen Movies
Please feel free to sign our Guestbook:
HTM has a new look, a new blog, a new book & a new channel
Visit our pages: Latest Teen Movies & Hottest New Stars
© Copyright Hollywood Teen Movies. All rights reserved.
*********************************************************************************************