Final Destination (2000)

Final Destination
Buy This at Allposters.com

Film Facts
U.S. Release Date: 17th March 2000    
Running Time: 98 min
U.S. Classification: R              
Director: James Wong
Starring: Devon Sawa, Ali Larter, Kerr Smith, Seann William Scott, Kristen Cloke, Tony Todd, Chad Donella, Daniel Roebuck, Amanda Detmer, Barabara Tyson.

Taglines:
* Most people have dreams. For Alex, this is real.
* Face Your Deepest Fears... Before They Face You.
* No Accidents. No Coincidences. No Escapes. You Can't Cheat Death.
* Death Doesn't Take No For An Answer.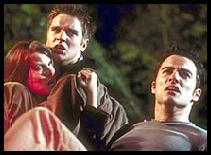 Tony's Comments
From the creators of "The X-Files" comes "Final Destination" a different spin on your typical teen slasher flick. Alex (Devon Sawa) and his school buddies are about to take a flight to Paris when he has a premonition that their plane will crash. He tries desperately to warn everybody but only achieves in having himself and his friends thrown off the flight. Shortly after takeoff the plane does in fact explode and Alex together with his friends have escaped death. But the thriller kicks into high gear when in no time at all the survivors are mysteriously killed off, one at a time. Will Alex survive the horror that awaits him? Well, if you want to find out, you will just have to watch the heart-stopping chills and thrills unfold in this bizarre teen thriller. A number of well know teen actors are featured in this offbeat thrill-ride including, Kerr Smith (Dawson's Creek), Ali Larter (Varsity Blues) and Sean William Scott (American Pie, Road Trip, Dude Where's My Car?).
"Final Destination" was a surprise hit. Made for $23million, it clocked up a neat $53.3 million at the US box office. One thing is for sure "Final Destination" is a film that will not show up on any In-flight entertainment schedules in the near future. If you're a fan you will just have to wait for the next installment "Final Destination 2" which will be terrifying cinema audiences in 2003.

Kerr Smith
Buy This at Allposters.com
Final Destination on Blu-ray & DVD
Final Destination (2000) [Blu-ray]
A high school student has a terrifying vision of a plane crashing right before he and his classmates are to head to Paris on a senior trip. Seven people leave the plane and watch in horror as the premonition comes true. Have the survivors truly cheated death, or, as they begin dying in mysterious ways, are they merely living on borrowed time? Devon Sawa, Ali Larter, Kerr Smith, Seann William Scott star in this unusual chiller from "X-Files" veterans Glen Morgan and James Wong. 98 min. Widescreen (Enhanced); Soundtracks: English Dolby TrueHD 5.1, Dolby Digital 5.1, German Dolby Digital 5.1; Subtitles: English (SDH), Spanish, German; audio commentary; isolated music score; deleted scenes; alternate ending; documentaries; theatrical trailer.
Final Destination (2000) [DVD]

Seann William Scott
Buy This at Allposters.com

Final Destination sequels on Blu-ray

Final Destination 2 (2003) [Blu-ray]
Scary sequel to the surprise hit shocker stars A.J. Cook as a teenager who has a vision of a horrific multi-car accident while driving to Florida for spring break. Cook manages to save several people before the predicted crash occurs, but the survivors soon find death catching up to them. Teaming up with cop Michael Landes, Cook searches for Ali Larter, sole survivor of the first film's carnage, to see if her fatal fate can be avoided. 90 min. Widescreen (Enhanced); Soundtrack: English.
Final Destination 3 (2006) [Blu-ray]
The third time's the charm as fresh-faced teens find their invulnerability rudely (and often) disproved by a Grim Reaper with a morbid sense of humor. Soon after high school senior Wendy (Mary Elizabeth Winstead) is spared from a grisly rollercoaster accident, she stumbles upon clues in digital photographs that suggest she and her friends are soon to meet their maker. Ryan Merriman, Alexz Johnson, Chelan Simmons also star. 93 min.
The Final Destination 4 (2009) [Blu-ray/Blu-ray 3D]
Was it dark fate at work when the decision was made to mount this fourth (and "final"?) installment in the bone-chilling franchise that launched with the 2000 shocker "Final Destination"? In this chapter, one teen's spooky premonition saves him and his friends from death after a horrifying accident at the racetrack. But, will his psychic abilities be able to keep them ahead of the Grim Reaper for long? Bobby Campo, Krista Allen star. Includes both the 2D and 3D versions; 82 min. Widescreen (Enhanced); Soundtracks: English DTS HD 5.1 Master Audio, French Dolby Digital 5.1, Spanish Dolby Digital 5.1; Subtitles: English (SDH), French, Spanish; alternate endings; featurette; storyboards; deleted scenes. Blu-ray 3D requires a 3D television, 3D
Final Destination 5 (2011) [Blu-ray]
The fourth sequel to the chilling franchise this time focuses on Sam (Nicholas D'Agosto), an average office employee who manages to save several co-workers after his vision of a bridge collapse becomes a reality. Of course, the group soon learns that death doesn't like to be cheated, and they begin to die in a variety of creative ways. However, an ominous figure (Tony Todd) eventually emerges and offers a macabre suggestion for survival. Emma Bell and Miles Fisher co-star. Not in 3D. 92 min. Widescreen (Enhanced); Soundtracks: English DTS HD 5.1 Master Audio, featurettes; alternate scenes.


Ali Larter
Buy This at Allposters.com

***** HTM Exclusive Videos *****
Top 10 Teen Stars of 2011
Who are the "Top 10 Teen Stars Of Today"? "Twilight" stars Kristen Stewart, Robert Pattinson & Taylor Lautner are just some of the fascinating personalities featured, but who are the other 7 stars? Find out who they are by checking out our selection in this "Exclusive Countdown Video". Now Showing here & on our YouTube Channel.
"Celebrating The 80s" - Official Book Trailer
"Teen Movies Needed Some Long Overdue Respect" - Hollywood Teen Movies celebrates the 1980s & 10 fantastic years online with this Official promo for the new book "Hollywood Teen Movies 80 from the 80s - The Good The Bad & The Forgotten". Hope you enjoy this nostalgic trip back to arguably "the greatest decade in teen movie history". The images, the fashion, the sound, the stars, the movies & of course the book are all captured in this visual extravaganza that is pure 80s Movie Magic at its very best! This Exclusive 80s flashback video is Now Showing on this page (play button below) and on our YouTube Channel. Come on shout and breakout as we go back to re-live all the memories of the totally awesome 80s.....
Celebrating 10 Years Online
www.hollywoodteenmovies.com has been around now for over 10 years. To celebrate our anniversary year we have created 2 special promo videos that capture the essence of teen movies throughout the decades. Sit back, relax and let the memories flashback as we take you on 2 different journeys through 70 amazing years of teen movies. Video 1 titled "Hollywood Teen Movies 70 Years Of Memories" is a pictorial cavalcade of teen movies from the 1940s to the new millennium. Video 2 titled "Teenager in Love" focuses on the romance element that is prevalent in many of the great teen movies. These Exclusive videos are Now Showing on this site & on our YouTube Channel. Enjoy the rides.....
70 Years of Memories
Teenager In Love
**********************************************************************************************
*********************************************************************************************