Mad About Mambo (2000)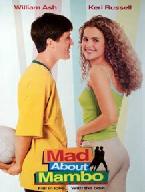 In A Nutshell: "Dance, romance & soccer collide in this
light-hearted Irish export with a dash of pizazz!". - Tony Pichaloff
© Copyright Hollywood Teen Movies. All rights reserved.

Keri Russell
Buy This at Allposters.com

Film Facts
US Release Date: 6th August 2000
Running Time: 88 min
US Classification: PG-13
Director: John Forte
Starring: Keri Russell, William Ash, Brian Cox
Taglines: Fall in love... With the beat.

Keri Russell
Buy This at Allposters.com

Tony's Comments
Keri Russell, star of the TV show "Felicity" plays Lucy McLoughlin a rich girl, who loves to dance, but also loves to win. Danny Mitchell (William Ash) is the poor boy soccer player from Belfast, who takes up dancing to improve his co-ordination in the hope that one day he might become a professional soccer star. He meets Lucy at dance class & a relationship begins to develop as the two pair up to compete in a dance competition. "Mad About Mambo" is a light-hearted romantic dance comedy that should appeal to most teens, particularly those interested in sport & dance.

Keri Russell
Buy This at Allposters.com
VHS Synopsis
Set in Belfast, this unusual romantic comedy/drama stars William Ash as a soccer-loving Catholic teen who dreams of playing for his town's professional team. An attempt to improve his coordination by taking ballrom dance lessons has Ash falling for dance partner Keri Russell, a well-to-do girl from the opposite side of the tracks. With Brian Cox, Rosaleen Linehan also star. 92 min.
Mad About Mambo on DVD & CD

Keri Russell
Buy This at Allposters.com
***** HTM Exclusive Videos *****
Top 10 Teen Stars of 2011
Who are the "Top 10 Teen Stars Of Today"? "Twilight" stars Kristen Stewart, Robert Pattinson & Taylor Lautner are just some of the fascinating personalities featured, but who are the other 7 stars? Find out who they are by checking out our selection in this "Exclusive Countdown Video". Now Showing here & on our YouTube Channel.
"Celebrating The 80s" - Official Book Trailer
"Teen Movies Needed Some Long Overdue Respect" - Hollywood Teen Movies celebrates the 1980s & 10 fantastic years online with this Official promo for the new book "Hollywood Teen Movies 80 from the 80s - The Good The Bad & The Forgotten". Hope you enjoy this nostalgic trip back to arguably "the greatest decade in teen movie history". The images, the fashion, the sound, the stars, the movies & of course the book are all captured in this visual extravaganza that is pure 80s Movie Magic at its very best! This Exclusive 80s flashback video is Now Showing on this page (play button below) and on our YouTube Channel. Come on shout and breakout as we go back to re-live all the memories of the totally awesome 80s.....
Celebrating 10 Years Online
www.hollywoodteenmovies.com has been around now for over 10 years. To celebrate our anniversary year we have created 2 special promo videos that capture the essence of teen movies throughout the decades. Sit back, relax and let the memories flashback as we take you on 2 different journeys through 70 amazing years of teen movies. Video 1 titled "Hollywood Teen Movies 70 Years Of Memories" is a pictorial cavalcade of teen movies from the 1940s to the new millennium. Video 2 titled "Teenager in Love" focuses on the romance element that is prevalent in many of the great teen movies. These Exclusive videos are Now Showing on this site & on our YouTube Channel. Enjoy the rides.....
70 Years of Memories
Teenager In Love
Quick Movie & Actor Search
A to Z Movie Search:

A B C D E F G H I J K L M N O P Q R S T U V W X Y Z

A to Z Actor Search:

A B C D E F G H I J K L M N O P Q R S T U V W X Y Z
**********************************************************************************************
Hollywood Teen Movies Blog Spot / Messageboard:
Click here to have your say or see what others are saying
Use The Search Bar Below To Find Your Favorite Movies:
Thanks for visiting Hollywood Teen Movies
Please feel free to sign our Guestbook:
HTM has a new look, a new blog, a new book & a new channel
Visit our pages: Latest Teen Movies & Hottest New Stars
© Copyright Hollywood Teen Movies. All rights reserved.
*********************************************************************************************