Not Another Teen Movie (2001)

Not Another Teen Movie
Buy This at Allposters.com

In A Nutshell: "Wild & wooly spoof that is bursting at the seams with crude & over-the-top gags". - Tony Pichaloff
© Copyright Hollywood Teen Movies. All rights reserved.

Film Facts
US Release Date: 14th December 2001
Australian Release Date: 21st March 2002
Running Time: 89 min
US Classification: R
Director: Joel Gallen
Starring:
Chyler Leigh .... Janey Briggs (The Pretty Ugly Girl)
Jaime Pressly .... Priscilla (The Bitchy Cheerleader)
Chris Evans .... Jake Wyler (The Popular Jock)
Mia Kirshner .... Catherine Wyler (The Cruelest Girl)
Eric Christian Olsen .... Austin (The Cocky Blonde Guy)
Cody McMains .... Mitch Briggs (The Desperate Virgin)
Deon Richmond .... Malik (The Token Black Guy)
Eric Jungmann .... Ricky (The Obsessed Best Friend)
Ron Lester .... Reggie Ray (The Stupid Fat Guy)
Samm Levine .... Bruce (The Desperate Virgin)
Lacey Chabert .... Amanda Becker (The Perfect Girl)
Sam Huntington .... Ox (The Desperate Virgin)
Joanna Garcia .... Sandy Sue (The 1950's Cheerleader)
Cerina Vincent .... Areola (The Foreign Exchange Student)
Beverly Polcyn .... Sadie (The Undercover Reporter)
Randy Quaid .... Mr. Briggs (The Unemployed Father)
Riley Smith .... Les (The Beautiful Weirdo)
Taglines:
* The Teen Mother Of All Movies!
* Forget Every Thing You Thought You Knew. Because This Christmas We're Changing ALL The Rules!
* If You Liked Scary Movie We Don't Give A Shit!
* They served you Breakfast. They gave you Pie. Now we're gonna stuff your face.
* If You Liked Scary Movie, Who Gives A Damn?
* If You Liked Scary Movie, Who Gives A Shit!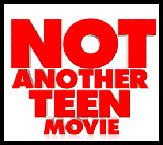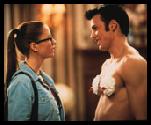 Tony's Comments
"Not Another Teen Movie" takes the plotline of the Freddie Prinze Jr. blockbuster "She's All That" (popular jock bets that he can turn ugly duckling into a beautiful prom queen) and mixes in bits and pieces from nearly every teen movie imaginable from the John Hughes classics of the 1980's such as "Pretty In Pink", "The Breakfast Club" and "Sixteen Candles" to some of today's notoriously sexy rude and crude teen films like "Cruel Intentions" and "American Pie". Other films that get the spoof treatment include "10 Things I Hate About You", "Bring It On", "Can't Hardly Wait", "Almost Famous", "Never Been Kissed", "Varsity Blues", "Dude, Where's My Car", "American Beauty" plus many more.

"Not Another Teen Movie" has tried to extract its audience from two generations of moviegoers - the thirty something brat packers that lived through the 1980's teen movie boom and today's gung-ho "American Pie" eating, anything goes teen audience. In "Not Another Teen Movie" there is never a dull moment. The gags are like a series of skits, they come quick and fast, some are rude, some are crude, some are gross-out toilet gags and some are simply good-natured. One thing is for sure the laughs are hit and miss, depending on taste.

Four of the movie's highlights extend from seeing old favourites in key roles. Paul Gleason reprises his "Breakfast Club" role of detention teacher Richard Vernon. "A Team" he-man Mr T almost steals the film as "The Wise Janitor", the Obi-Wan Kenobi of the teen movie. Randy Quaid (Eddie from the Vacation films) is amusing as the unemployed father with a heart of gold. He is the ultimate beer-drinking slob who looks like he needs a good scrub. Last but not least, 1980's teen queen Molly Ringwald has an amusing uncredited cameo in the film's finale as an airline clerk.

The original working title for "Not Another Teen Movie" was "Ten Things I Hate About Clueless Road Trips When I Can't Hardly Wait to Be Kissed" and if the filmmakers had of used it in the film's opening credit sequence as a subtitle I am sure it would of generated another laugh. "Not Another Teen Movie" has already proven to be a big success at the American box office. Made on a budget of $16 million it has already grossed over $37.9 million dollars. If you were a teenager in the 1980's and enjoyed the "Porky's" trilogy and embraced Molly Ringwald as your Teen Queen, or if you are a teenager of today and a lover of teen movies then "Not Another Teen Movie" is your ticket to a good time.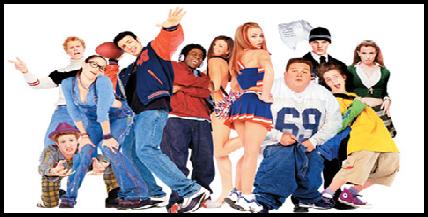 Not Another Teen Movie on DVD
Not Another Teen Movie (Unrated Extended Director's Cut) (2001) [DVD]
Teen movies get skewered unmercifully in this outrageous spoof. The comedic cliches come fast and furious at John Hughes High School, where the "popular jock" bets a "cocky blonde guy" that he can turn the "pretty ugly girl" into the prom queen. Of course, there are also spiteful cheerleaders, sex-crazed foreign exchange students, token black dudes, and other genre standards. Chris Evans, Mia Kirschner, and Jaime Pressly star. Unrated director's cut; 100 min. Widescreen; Soundtracks: English Dolby Digital 5.1, French Dolby Digital Surround; Subtitles: English, French; featurettes; music video; more.
Not Another Teen Movie CD Soundtrack
"Not Another Teen Movie" Soundtrack Listing
* "Tainted Love" Performed by Marilyn Manson
* "But Not Tonight" Performed by Scott Weiland
* "Message Of Love" Performed by Saliva
* "Biarre Love Triangle" Performed by Stabbing Westward
* "Blue Monday" Performed by Orgy
* "Never Let Me Down Again" Performed by The Smashing Pumpkins
* "Can't Fight This Feeling" Performed by REO Speedwagon
* "Kiss Me" Performed By Sixpence None The Richer
* "O-Yeah" Performed by Yello
* "The Night Life" Performed by The Cars
* "Somebody's Baby" Performed by Phantom Planet
* "99 Red Balloons" Perfomed by Goldfinger
* "My Hero" Perfomed by The Foo Fighters
* "Let's Begin" (Shoot the Shit) Performed by Bad Ronald
* "Don't You Forget About Me" Performed by Simple Minds
* "If You Leave" Performed by Good Charlotte
* "I Melt With You" Performed by Mest

***** HTM Exclusive Videos *****
1980s Coming Of Age Movies
Hollywood Teen Movies steps back in time for a quick look at "1980s Coming Of Ages Movies". These sensitive rite of passage dramas have all struck a chord with young audiences. All of these films & many more are featured in our new book: "Hollywood Teen Movies 80 From The 80s". This Exclusive video is Now Showing on this site & on our YouTube Channel.
Top 10 Teen Stars of 2011
Who are the "Top 10 Teen Stars Of Today"? "Twilight" stars Kristen Stewart, Robert Pattinson & Taylor Lautner are just some of the fascinating personalities featured, but who are the other 7 stars? Find out who they are by checking out our selection in this "Exclusive Countdown Video". Now Showing here & on our YouTube Channel.
"Celebrating The 80s" - Official Book Trailer
"Teen Movies Needed Some Long Overdue Respect" - Hollywood Teen Movies celebrates the 1980s & 10 fantastic years online with this Official promo for the new book "Hollywood Teen Movies 80 from the 80s - The Good The Bad & The Forgotten". Hope you enjoy this nostalgic trip back to arguably "the greatest decade in teen movie history". The images, the fashion, the sound, the stars, the movies & of course the book are all captured in this visual extravaganza that is pure 80s Movie Magic at its very best! This Exclusive 80s flashback video is Now Showing on this page (play button below) and on our YouTube Channel. Come on shout and breakout as we go back to re-live all the memories of the totally awesome 80s.....
Celebrating 10 Years Online
www.hollywoodteenmovies.com has been around now for over 10 years. To celebrate our anniversary year we have created 2 special promo videos that capture the essence of teen movies throughout the decades. Sit back, relax and let the memories flashback as we take you on 2 different journeys through 70 amazing years of teen movies. Video 1 titled "Hollywood Teen Movies 70 Years Of Memories" is a pictorial cavalcade of teen movies from the 1940s to the new millennium. Video 2 titled "Teenager in Love" focuses on the romance element that is prevalent in many of the great teen movies. These Exclusive videos are Now Showing on this site & on our YouTube Channel. Enjoy the rides.....
70 Years of Memories
Teenager In Love
**********************************************************************************************
*********************************************************************************************