Psycho Beach Party (2000)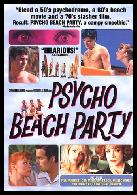 In A Nutshell: "Totally bizarre spoof of 1960s beach party films with a demented slasher flick spin to it". - Tony Pichaloff
© Copyright Hollywood Teen Movies. All rights reserved.

Film Facts
US Release Date: January 2000 (Limited)
Running Time: 95 min
US Classification: R
Director: Robert Lee King
Starring: Lauren Ambrose, Thomas Gibson, Nicholas Brendon, Kimberley Davies, Matt Keeslar, Charles Busch, Beth Broderick, Danni Wheeler, Nick Cornish, Andrew Levitas, Amy Adams, Kathleen Robertson, Nathan Bexton, Buddy Quaid, Jenica Bergere.
Taglines:
* Party till you drop. Dead.
* Sun, Surf & One Psycho Babe!

Tony's Comments (2001)
"Psycho Beach Party" is a strange low-budget film that attempts to cash in on the 1960's Beach Party craze, along with various other teen slasher flicks. The film is full of murder, mayhem & crazy characters. The film's central character is Florence Forrest (Lauren Ambrose) also known as Chicklet, an obvious pun at the 60's Gidget character. Florence suffers from schizophrenia & when her alter ego takes over she turns into a twisted aggressive young lady. It is after this that various dead bodies show up & several beach goers are found dead. The films humor goes from bad taste to sick & demented very quickly, ruining what could have been a potentially successful satire. It is really hard to delineate what genre the film wants to be, it has elements of comedy, horror, thriller, murder mystery & teen slasher flick all rolled into one. Australian audiences, look out for Kimberley Davies who was once a star of the popular TV series "Neighbours", she plays film actress Bettina Barns. "Psycho Beach Party" will certainly not appeal to all tastes. Basically the film is as the title says, "Psycho".
Psycho Beach Party on DVD
Psycho Beach Party (2000) [DVD]
Based on Charles Busch's long-running off-Broadway play, this campy, gender-bending mix of '60s beach comedies and horror films stars Lauren Ambrose as Florence "Chicklet" Forest, a surfing-crazy Malibu teen whose split-personality alter ego may be responsible for a series of murders plaguing the beach scene. With Thomas Gibson, Beth Broderick, Nicholas Brendon, Amy Adams, and Busch as police captain Monica Stark. 95 min. Widescreen; Soundtrack: English Dolby Digital stereo; audio commentary; music video; theatrical trailer.
***** HTM Exclusive Videos *****
"80s Music & Dance / Sand & Surf"
Hollywood Teen Movies presents a sneak peak at some of the great retro teen movies in this double-wammy sub-genre of Music & Dance / Sand & Surf all featured in our new book: Hollywood Teen Movies 80 From The 80s. This Exclusive video is Now Showing on this site & on our YouTube Channel. So sit back, relax & enjoy this musical montage complete with stills, posters, critical comments & of course a super-catchy soundtrack 80s style.
Top 10 Teen Stars of 2011
Who are the "Top 10 Teen Stars Of Today"? "Twilight" stars Kristen Stewart, Robert Pattinson & Taylor Lautner are just some of the fascinating personalities featured, but who are the other 7 stars? Find out who they are by checking out our selection in this "Exclusive Countdown Video". Now Showing here & on our YouTube Channel.
"Celebrating The 80s" - Official Book Trailer
"Teen Movies Needed Some Long Overdue Respect" - Hollywood Teen Movies celebrates the 1980s & 10 fantastic years online with this Official promo for the new book "Hollywood Teen Movies 80 from the 80s - The Good The Bad & The Forgotten". Hope you enjoy this nostalgic trip back to arguably "the greatest decade in teen movie history". The images, the fashion, the sound, the stars, the movies & of course the book are all captured in this visual extravaganza that is pure 80s Movie Magic at its very best! This Exclusive 80s flashback video is Now Showing on this page (play button below) and on our YouTube Channel. Come on shout and breakout as we go back to re-live all the memories of the totally awesome 80s.....
Celebrating 10 Years Online
www.hollywoodteenmovies.com has been around now for over 10 years. To celebrate our anniversary year we have created 2 special promo videos that capture the essence of teen movies throughout the decades. Sit back, relax and let the memories flashback as we take you on 2 different journeys through 70 amazing years of teen movies. Video 1 titled "Hollywood Teen Movies 70 Years Of Memories" is a pictorial cavalcade of teen movies from the 1940s to the new millennium. Video 2 titled "Teenager in Love" focuses on the romance element that is prevalent in many of the great teen movies. These Exclusive videos are Now Showing on this site & on our YouTube Channel. Enjoy the rides.....
70 Years of Memories
Teenager In Love
**********************************************************************************************
*********************************************************************************************