Sugar & Spice (2001)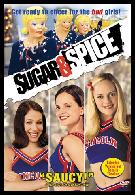 Film Facts
U.S. Release Date: 26th January 2001    
Running Time: 78 min
U.S. Classification: PG-13              
Director: Francine McDougall
Starring: Marla Sokoloff, Marley Shelton, Melissa George, Mena Suvari, Rachel Blanchard, Alexandra Holden, Sara Marsh, James Marsden, Sean Young, W. Earl Brown, Adam Busch, Jake Hoffman, Nate Maher, David Belenky, Kevin Kling

Taglines:
* Why would the most popular girl in school wear a mask?
* Get ready to cheer for the bad girls.


Mena Suvari
Buy This at Allposters.com
Vintage VHS Synopsis
For the Lincoln High School A-Squad, cheering comes easy. It's the bank robbery that's gonna be tough. From the Academy Award winning producer of Forrest Gump and Stepmom comes a deliciously naughty tale of a team that takes cheerleading to a whole new location - with far more lucrative benefits! Mena Suvari (American Beauty), Marla Sokoloff (Dude, Where's My Car?), Melissa George (Mulholland Drive) and hearthrob, James Marsden (X-Men), star in the criminal comedy that everyone's rooting for, Sugar And Spice!

Marla Sokoloff
Buy This at Allposters.com
Tony's Comments
"Sugar & Spice" is an over the top, almost spoof like teen comedy. It was made on a budget of $11m and grossed over $13million at the US box office. The story is partially narrated and is about a group of cheerleaders, but not the type of cheerleaders we expect; one has an obsession with TV talk show host Conan O'Brien and the group watch "Point Break", "Heat" & "Reservoir Dogs" in preparation for a bank robbery. The film's finale sees the cheerleaders stage what becomes known as "The Betty Doll Bank Robbery". The girls wear blond haired girlie mask, carry their guns in gift boxes and are dressed in garments that resemble the American flag. "Sugar & Spice" is a shorter than average film (78 minutes), it has some interesting characters and features some amusing moments but ultimately it is hit and miss.

Marley Shelton
Buy This at Allposters.com
Sugar & Spice on DVD
Zesty teen satire in which Marley Shelton, the top cheerleader at Lincoln High, becomes pregnant by school football star James Marsden. After being abandoned by their folks and toiling at low-pay jobs, Shelton hatches a plan with sisters-in-pep Rachel Blanchard, Melissa George, Sara Marsh, Marla Sokoloff and Mena Suvari to rob the supermarket bank where she works. The gals prepare by watching crime movies on video and from Suvari's convict mother (Sean Young). Widescreen; deleted scenes; theatrical trailer.

Rachel Blanchard
Buy This at Allposters.com

***** HTM Exclusive Videos *****
Top 10 Teen Stars of 2011
Who are the "Top 10 Teen Stars Of Today"? "Twilight" stars Kristen Stewart, Robert Pattinson & Taylor Lautner are just some of the fascinating personalities featured, but who are the other 7 stars? Find out who they are by checking out our selection in this "Exclusive Countdown Video". Now Showing here & on our YouTube Channel.
"Celebrating The 80s" - Official Book Trailer
"Teen Movies Needed Some Long Overdue Respect" - Hollywood Teen Movies celebrates the 1980s & 10 fantastic years online with this Official promo for the new book "Hollywood Teen Movies 80 from the 80s - The Good The Bad & The Forgotten". Hope you enjoy this nostalgic trip back to arguably "the greatest decade in teen movie history". The images, the fashion, the sound, the stars, the movies & of course the book are all captured in this visual extravaganza that is pure 80s Movie Magic at its very best! This Exclusive 80s flashback video is Now Showing on this page (play button below) and on our YouTube Channel. Come on shout and breakout as we go back to re-live all the memories of the totally awesome 80s.....
Celebrating 10 Years Online
www.hollywoodteenmovies.com has been around now for over 10 years. To celebrate our anniversary year we have created 2 special promo videos that capture the essence of teen movies throughout the decades. Sit back, relax and let the memories flashback as we take you on 2 different journeys through 70 amazing years of teen movies. Video 1 titled "Hollywood Teen Movies 70 Years Of Memories" is a pictorial cavalcade of teen movies from the 1940s to the new millennium. Video 2 titled "Teenager in Love" focuses on the romance element that is prevalent in many of the great teen movies. These Exclusive videos are Now Showing on this site & on our YouTube Channel. Enjoy the rides.....
70 Years of Memories
Teenager In Love
Quick Movie & Actor Search
A to Z Movie Search:

A B C D E F G H I J K L M N O P Q R S T U V W X Y Z

A to Z Actor Search:

A B C D E F G H I J K L M N O P Q R S T U V W X Y Z
**********************************************************************************************
Hollywood Teen Movies Blog Spot / Messageboard:
Click here to have your say or see what others are saying
Use The Search Bar Below To Find Your Favorite Movies:
Thanks for visiting Hollywood Teen Movies
Please feel free to sign our Guestbook:
HTM has a new look, a new blog, a new book & a new channel
Visit our pages: Latest Teen Movies & Hottest New Stars
© Copyright Hollywood Teen Movies. All rights reserved.
*********************************************************************************************