Tomcats (2001)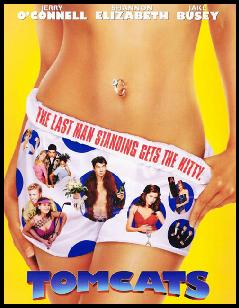 Film Facts
U.S. Release Date: 30th March 2001    
Running Time: 95 min
U.S. Classification: R              
Director: Gregory Poirier
Starring: Shannon Elizabeth, Jerry O'Connell, Jake Busey, Horatio Sanz, Jaime Pressly, Bill Maher, Julia Schultz

Taglines:
*The Last Man Standing Gets The Kitty.
* Spring break heats up March 30

Tomcats
Buy This at Allposters.com
Film Synopsis
A group of friends make a bet that the last remaining bachelor among them will receive a large amount of money. Having lost a large sum in Vegas, one of the friends desperately tries to get his friend married so he can pay his debt. Click here for Tomcats Gallery

Jamie Pressly
Buy This at Allposters.com
Tony's Comments
Tomcats tells the story of a group of friends who bet each other that the last man married will win a pooled bet. Seven years later the kitty has reached about half a million dollars & there are two unmarried friends left. They are Jerry O'Connell & Jake Busey (son of Gary Busey). O'Connell loses a ton of money at a Las Vegas Casino & has to quickly get his friend Busey married so that he can collect the prize money & pay back his debt. Sexual hi-jinks abound in this outrageously raunchy comedy. Definitely for the broad-minded.

Jamie Pressly
Buy This at Allposters.com
"Tomcats" on Blu-Ray & DVD:
Click the links below for purchasing details:
Tomcats (2001) [Blu-ray]
Raunchy hi-jinks ensue when a group of gal-lovin' pals place their cash in a pot and make a bet: the last one to marry gets to keep the money. After a few years, only aspiring cartoonist Jerry O'Connell and womanizer Jake Busey remain bachelors, but when O'Connell loses $50,000 in Vegas, he hatches a plan to marry off Busey to cop and ex-girlfriend Shannon Elizabeth. With Horatio Sanz, Jaime Pressly, and Bill Maher. 95 min. Widescreen; Soundtrack: English DTS HD 5.1 Master Audio; Subtitles: English (SDH), Spanish.
Tomcats (2001) [DVD]


Jaime Pressly
Buy This at Allposters.com

***** HTM Exclusive Videos *****
Top 10 Teen Stars of 2011
Who are the "Top 10 Teen Stars Of Today"? "Twilight" stars Kristen Stewart, Robert Pattinson & Taylor Lautner are just some of the fascinating personalities featured, but who are the other 7 stars? Find out who they are by checking out our selection in this "Exclusive Countdown Video". Now Showing here & on our YouTube Channel.
"Celebrating The 80s" - Official Book Trailer
"Teen Movies Needed Some Long Overdue Respect" - Hollywood Teen Movies celebrates the 1980s & 10 fantastic years online with this Official promo for the new book "Hollywood Teen Movies 80 from the 80s - The Good The Bad & The Forgotten". Hope you enjoy this nostalgic trip back to arguably "the greatest decade in teen movie history". The images, the fashion, the sound, the stars, the movies & of course the book are all captured in this visual extravaganza that is pure 80s Movie Magic at its very best! This Exclusive 80s flashback video is Now Showing on this page (play button below) and on our YouTube Channel. Come on shout and breakout as we go back to re-live all the memories of the totally awesome 80s.....
Celebrating 10 Years Online
www.hollywoodteenmovies.com has been around now for over 10 years. To celebrate our anniversary year we have created 2 special promo videos that capture the essence of teen movies throughout the decades. Sit back, relax and let the memories flashback as we take you on 2 different journeys through 70 amazing years of teen movies. Video 1 titled "Hollywood Teen Movies 70 Years Of Memories" is a pictorial cavalcade of teen movies from the 1940s to the new millennium. Video 2 titled "Teenager in Love" focuses on the romance element that is prevalent in many of the great teen movies. These Exclusive videos are Now Showing on this site & on our YouTube Channel. Enjoy the rides.....
70 Years of Memories
Teenager In Love
Quick Movie & Actor Search
A to Z Movie Search:

A B C D E F G H I J K L M N O P Q R S T U V W X Y Z

A to Z Actor Search:

A B C D E F G H I J K L M N O P Q R S T U V W X Y Z
**********************************************************************************************
Hollywood Teen Movies Blog Spot / Messageboard:
Click here to have your say or see what others are saying
Use The Search Bar Below To Find Your Favorite Movies:
Thanks for visiting Hollywood Teen Movies
Please feel free to sign our Guestbook:
HTM has a new look, a new blog, a new book & a new channel
Visit our pages: Latest Teen Movies & Hottest New Stars
© Copyright Hollywood Teen Movies. All rights reserved.
*********************************************************************************************