The Amazing Spider-Man (2012)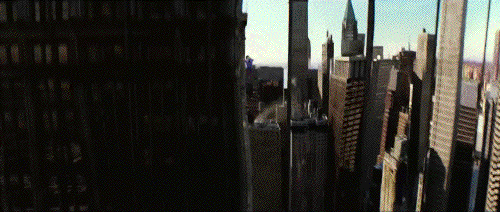 Tony's Pre-Release Comments:

"At the top of my must-see list for 2012, this re-boot is set to be a fantastic super-hero experience. Andrew Garfield & Emma Stone look the goods & are definately exciting casting choices". - Tony Pichaloff
© Copyright Hollywood Teen Movies. All rights reserved.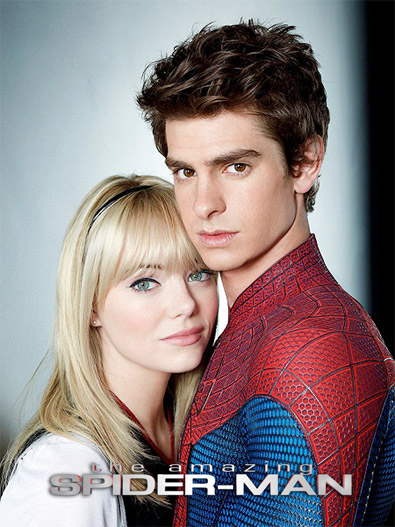 Film Facts
US Release Date: 3rd July 2012
Running Time: ???
US Classification: PG-13
Director: Marc Webb
Starring: Andrew Garfield, Emma Stone, Rhys Ifans, Martin Sheen, Sally Field, C. Thomas Howell, Denis Leary, Campbell Scott, Stan Lee
Tagline: The Untold Story

Official Film Synopsis
"The Amazing Spider-Man" is the story of Peter Parker (Garfield), an outcast high schooler who was abandoned by his parents as a boy, leaving him to be raised by his Uncle Ben (Sheen) and Aunt May (Field). Like most teenagers, Peter is trying to figure out who he is and how he got to be the person he is today. Peter is also finding his way with his first high school crush, Gwen Stacy (Stone), and together, they struggle with love, commitment, and secrets. As Peter discovers a mysterious briefcase that belonged to his father, he begins a quest to understand his parents' disappearance leading him directly to Oscorp and the lab of Dr. Curt Connors (Ifans), his father's former partner. As Spider-Man is set on a collision course with Connors' alter-ego, The Lizard, Peter will make life-altering choices to use his powers and shape his destiny to become a hero.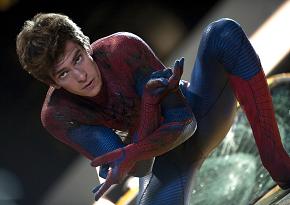 Original Spider-Man Trilogy on DVD
Spider-Man (2002) [DVD]
A bite from a genetically-altered arachnid turns timid high schooler Peter Parker (Tobey Maguire) into a web-spinning wallcrawler who learns through tragedy to become a hero, in the hit screen rendition of Marvel Comics' flagship character. Kirsten Dunst is Parker's love interest Mary Jane Watson, and Willem Dafoe is scheming scientist Norman Osborne, who uses his technology to become the armored, bat-glider-riding Green Goblin. With Rosemary Harris, James Franco, J.K. Simmons, and Cliff Robertson; Sam Raimi directs. 121 min. Standard; Soundtracks: English Dolby Digital 5.1, French Dolby Digital 5.1; Subtitles: English, French, Spanish; audio commentary by Raimi, Dunst, TV spots; music videos; documentaries; outtakes; screen tests.
Spider-Man 2 (Widescreen Version) (2004) [DVD]
Two years after receiving his spider-powers, life hasn't gotten any easier for college student/crimefighter Peter Parker (Tobey Maguire). With his grades slipping and his personal life at an all-time low, Maguire hangs up his red and blue costume. But when New York is threatened by a new menace--tentacled terror Doctor Octopus (Alfred Molina)--will Spidey return to save the day? Director Sam Raimi's smash hit sequel also stars Kirsten Dunst, James Franco, Rosemary Harris, J.K. Simmons. 128 min. Widescreen; Soundtracks: English Dolby Digital 5.1, Dolby Digital Surround, French Dolby Digital 5.1, Spanish Dolby Digital 5.1; Subtitles: English, Spanish, French; audio commentary; bloopers; "making of" documentary; featurettes; music.
Spider-Man 3 (2-Disc Special Edition) (2007) [DVD]
As Peter Parker (Tobey Maguire) has his hands full dealing with life in the public eye and the effects of an alien symbiote that has attached itself to him in the form of a sleek new costume, he must also contend with a former friend (James Franco) who's adopted the mantle of the New Goblin, the granular goon the Sandman (Thomas Haden Church), and rival photographer Eddie Brock (Topher Grace), who joins with the alien to create the villainous Venom. Also stars Kirsten Dunst, J.K. Simmons, and Bryce Dallas Howard as Gwen Stacy. 139 min. Widescreen (Enhanced); Soundtracks: English Dolby Digital 5.1, Dolby Digital Surround, Spanish Dolby Digital 5.1, Dolby Digital Surround; Subtitles: English, Spanish; audio commentary; music video; bloopers,

Marvel Heroes
Buy This at Allposters.com

***** HTM Exclusive Videos *****
Top 10 Teen Stars of 2011
Who are the "Top 10 Teen Stars Of Today"? "Twilight" stars Kristen Stewart, Robert Pattinson & Taylor Lautner are just some of the fascinating personalities featured, but who are the other 7 stars? Find out who they are by checking out our selection in this "Exclusive Countdown Video". Now Showing here & on our YouTube Channel.
"Celebrating The 80s" - Official Book Trailer
"Teen Movies Needed Some Long Overdue Respect" - Hollywood Teen Movies celebrates the 1980s & 10 fantastic years online with this Official promo for the new book "Hollywood Teen Movies 80 from the 80s - The Good The Bad & The Forgotten". Hope you enjoy this nostalgic trip back to arguably "the greatest decade in teen movie history". The images, the fashion, the sound, the stars, the movies & of course the book are all captured in this visual extravaganza that is pure 80s Movie Magic at its very best! This Exclusive 80s flashback video is Now Showing on this page (play button below) and on our YouTube Channel. Come on shout and breakout as we go back to re-live all the memories of the totally awesome 80s.....
Celebrating 10 Years Online
www.hollywoodteenmovies.com has been around now for over 10 years. To celebrate our anniversary year we have created 2 special promo videos that capture the essence of teen movies throughout the decades. Sit back, relax and let the memories flashback as we take you on 2 different journeys through 70 amazing years of teen movies. Video 1 titled "Hollywood Teen Movies 70 Years Of Memories" is a pictorial cavalcade of teen movies from the 1940s to the new millennium. Video 2 titled "Teenager in Love" focuses on the romance element that is prevalent in many of the great teen movies. These Exclusive videos are Now Showing on this site & on our YouTube Channel. Enjoy the rides.....
70 Years of Memories
Teenager In Love
**********************************************************************************************
*********************************************************************************************