Bootmen (2000)
Film Facts
Australian Release Date: 5th October 2000    
U.S. Release Date: 6th October 2000 (Limited)    
Running Time: 95 min
U.S. Classification: R              
Director: Dein Perry
Starring: Adam Garcia, Sam Worthington, Sophie Lee, William Zappa
Tagline: When you don't know your next step... improvise.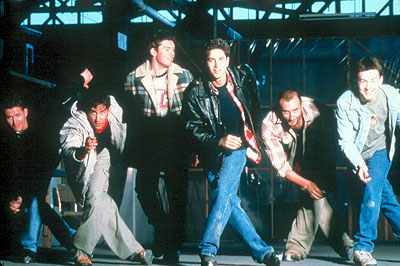 Tony's Comments
"Bootmen is a highly entertaining dance movie which features the old theme of "lets put on a show" & could be best described as being a cross between "The Full Monty" & "Two Hands".

The film is set in the steel town of Newcastle on Australia's eastern coastline & centres around Sean Okden (Adam Garcia) & his determination to become a famous tap dancer. Sean & his brother Mitchell (Sam Worthington) both work in the local steel-mill & both fall in love with the same girl, hairdresser Linda (Sophie Lee).

Linda first falls in love with Sean but when Sean gets a job with a dance team in Sydney & has to move out of town, his brother Mitchell takes advantage of Linda's loneliness. He takes her out, gives her plenty to drink & convinces her that Sean will never come back. In the process Linda makes the mistake of falling to his advances.

When things don't work out in Sydney, Sean moves back to Newcastle & finds his brother & Linda in bed together. The conflict between the two brothers over the affections of Linda escalates and is well handled by the 3 young actors.

After his disappointment in Sydney & failing love life, Sean musters up enough drive & will-power to get together a dance-troupe of locals to perform in a benefit for the workers, who will lose their jobs, in the soon to be shut down steel-mill.

"Bootmen" is well-directed by new filmmaker Dein Perry (inspired by his early years in Newcastle) creator of the 2 famous dance stage-shows "Tap Dogs" and "Steel City". He has successfully created a film that blends drama with toe-tapping dance routines, a film that will have you wanting to screw metal plates to your boots to join in with all the fun.

Filmed on location in scenic Newcastle the cinematography is outstanding & captures the beauty and spirit of the steel city. Bootmen's soundtrack features popular Australian artists & the supporting cast of local Aussie actors is spot on.

"Bootmen's" dancing sensation, Adam Garcia, has once again shown, just as he did in "Coyote Ugly", that he has what it takes to become a big star. He has already developed a fan base around the world (star attraction of "Saturday Night Fever" in London's West End) & is certainly a star that we will see more & more of in the future.

"Bootmen" is a show-stopping, shoe-stomping, slice of urban Australiana. It should surge forward the progression of Australian cinema, into the mainstream.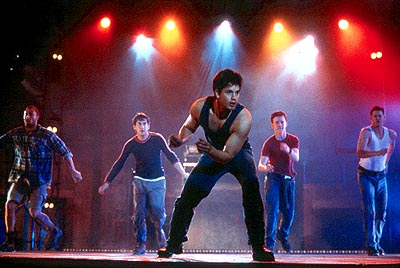 Bootmen on DVD
Bootmen (2000) [DVD]
"Tap Dogs" creator Dein Perry directed this dance-filled delight set in Australia and focusing on Sean, a steelworker with aspirations of becoming a professional dancer. Against his father's wishes, Sean heads for Sydney to work in a musical, but returns home after things go awry. Rather than returning to his old job, Sean conceives of a new form of dancing, meshing rock music, boots with taps and the sound of heavy metal on steel. With Adam Garcia, Sophie Lee and Sam Worthington. 93 min. Standard and Widescreen; Soundtracks: English Dolby Digital 5.1, French Dolby Digital Surround, Spanish Dolby Digital Surround; Subtitles: English, Spanish; theatrical trailer; TV spot.
Bootmen DVD / CD / Book
Bootmen Gallery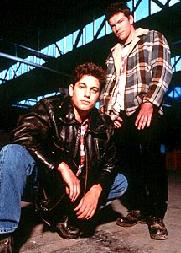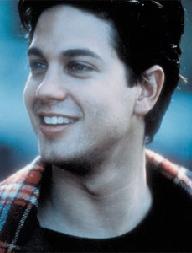 ***** HTM Exclusive Videos *****
Top 10 Teen Stars of 2011
Who are the "Top 10 Teen Stars Of Today"? "Twilight" stars Kristen Stewart, Robert Pattinson & Taylor Lautner are just some of the fascinating personalities featured, but who are the other 7 stars? Find out who they are by checking out our selection in this "Exclusive Countdown Video". Now Showing here & on our YouTube Channel.
"Celebrating The 80s" - Official Book Trailer
"Teen Movies Needed Some Long Overdue Respect" - Hollywood Teen Movies celebrates the 1980s & 10 fantastic years online with this Official promo for the new book "Hollywood Teen Movies 80 from the 80s - The Good The Bad & The Forgotten". Hope you enjoy this nostalgic trip back to arguably "the greatest decade in teen movie history". The images, the fashion, the sound, the stars, the movies & of course the book are all captured in this visual extravaganza that is pure 80s Movie Magic at its very best! This Exclusive 80s flashback video is Now Showing on this page (play button below) and on our YouTube Channel. Come on shout and breakout as we go back to re-live all the memories of the totally awesome 80s.....
Celebrating 10 Years Online
www.hollywoodteenmovies.com has been around now for over 10 years. To celebrate our anniversary year we have created 2 special promo videos that capture the essence of teen movies throughout the decades. Sit back, relax and let the memories flashback as we take you on 2 different journeys through 70 amazing years of teen movies. Video 1 titled "Hollywood Teen Movies 70 Years Of Memories" is a pictorial cavalcade of teen movies from the 1940s to the new millennium. Video 2 titled "Teenager in Love" focuses on the romance element that is prevalent in many of the great teen movies. These Exclusive videos are Now Showing on this site & on our YouTube Channel. Enjoy the rides.....
70 Years of Memories
Teenager In Love
**********************************************************************************************
*********************************************************************************************