Project X (2012)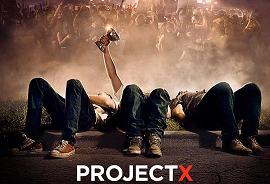 In A Nutshell: "Shot in home video fashion this destructive house party flick is lewd, crude & totally insane!". - Tony Pichaloff
© Copyright Hollywood Teen Movies. All rights reserved.

Film Facts
US Release Date: 2nd March 2012
Australian Release Date: 1st March 2012
Running Time: 88 min
US Classification: R
Director: Nima Nourizadeh
Starring: Thomas Mann, Oliver Cooper, Jonathan Daniel Brown, Dax Flame, Kirby Bliss Blanton, Miles Teller
Taglines:
* You Are Invited
* Witness It
* The Party You've Only Dreamed About.
Film Synopsis
Three unpopular high schoolers attempt to boost their popularity status with the mother of all parties in this comedy, filmed handycam-style, from producer Todd Phillips (The Hangover). But the raunchy party spirals wildly out of control when word spreads and massive crowds descend. Dreams are shattered, records are ruined and legends are born. The movie's stars are newcomers who scored their roles through a US-wide open casting call.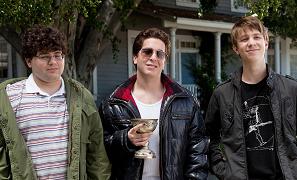 Tony's Review
In 1987 Matthew Broderick & Helen Hunt starred in a chimp film called "Project X". In 2012 a new film called "Project X" hit the cinemas - it is not a chimp film - but there is a lot of money business to be found. Any resemblance of the new film to that heartwarming 1980s monkey film ends with the title. Please be warned the 2012 "Project X" is not a remake! If a comparison had to be made, then the behavior of the teenagers in the new film would have to be described as somewhat out-of-control primates…..

With the release of "Project X" - the YouTube generation hits the big screen! Unfortunately, it is an upload from the bottom-of-the-barrel that has somehow slipped into the multiplexes. Warner Bros, what were you thinking? Shot in home video fashion this destructive house party flick is lewd, crude & totally insane! Some teens may get a kick out of watching it but other viewers you have been warned - "Project X" offers nothing more than a VIP ticket to get-up-close-&-personal with non-stop degrading party mayhem. With the bulk of the film shot hand-held, it's a rather exhausting watch - add to this concoction, drugs, alcohol & a midget in a microwave & you have a recipe for cinematic chaos.

"Project X" has ultimately nothing important to say, it features a cast of relative unknowns & reality-TV-type party revelers. However, one face may be familiar, Miles Teller of "Footloose" fame drops in & out of the chaos – playing not just another party guest… but himself. In 2012 we've had the found film footage of "Chronicle" & now "Project X" is number 2 out of the experimental starting gates. The short & skinny is, if you like out-of-control parties with no redeeming value – grab a ticket, if you like a little bit more depth to your teen movie - you may want to spend the afternoon with a John Hughes classic. Whatever the case, could "Project X" be the most irresponsible movie in the prestigious Warner Bros catalogue of films? You be the judge….."Project X" is not a good advertisement for teenagers. "Project X" is teenage stupidity exposed.
Recommended Link
Another teen flick in the style of "Project X" is "Chronicle" (2012).
To visit our "Chronicle" feature page click here
"Blair Witch" & "Cloverfield" on DVD
The Blair Witch Project (1999) [Blu-ray]
The ultra-scary, low-budget horror hit that traces the disappearance of three college students in rural Maryland in 1994 while filming a documentary about the region's fabled Blair Witch. What unfolds, through the surviving footage found of their expedition, is a series of unsettling experiences that become more frightening the more the trio learn and the further they go. With Heather Donohue, Michael Williams and Joshua Leonard. 87 min. Widescreen (Enhanced); Soundtrack: English Dolby Digital stereo; alternate ending; audio commentary; bonus footage.
The Blair Witch Project (1999) [DVD]
Soundtrack: English Dolby Digital stereo; audio commentary; biographies; bonus footage; bonus short "Curse of the Blair Witch"; DVD-ROM content; featurette; production notes; theatrical trailers.
Cloverfield (2008) [Blu-ray]
A normal evening in Manhattan becomes a fight for survival when a gigantic, horrific monster of unknown origin begins decimating the city. Surrounded by panic and fear, a young man leads a small group of his friends on a desperate trek across town to rescue the woman he loves, their daring journey documented on a hand-held digital video camera that provides a harrowing first-person perspective. Michael Stahl-David, Jessica Lucas, Odette Yustman, Lizzy Caplan, T.J. Miller star. 84 min. Widescreen; Soundtracks: English TrueHD 5.1, French Dolby Digital 5.1, Spanish Dolby Digital 5.1; Subtitles: English (SDH), French, Portuguese, Spanish; audio commentary; featurettes; deleted scenes; alternate endings.
Cloverfield (2008) [DVD]
***** HTM Exclusive Videos *****
Top 10 Teen Stars of 2011
Who are the "Top 10 Teen Stars Of Today"? "Twilight" stars Kristen Stewart, Robert Pattinson & Taylor Lautner are just some of the fascinating personalities featured, but who are the other 7 stars? Find out who they are by checking out our selection in this "Exclusive Countdown Video". Now Showing here & on our YouTube Channel.
"Celebrating The 80s" - Official Book Trailer
"Teen Movies Needed Some Long Overdue Respect" - Hollywood Teen Movies celebrates the 1980s & 10 fantastic years online with this Official promo for the new book "Hollywood Teen Movies 80 from the 80s - The Good The Bad & The Forgotten". Hope you enjoy this nostalgic trip back to arguably "the greatest decade in teen movie history". The images, the fashion, the sound, the stars, the movies & of course the book are all captured in this visual extravaganza that is pure 80s Movie Magic at its very best! This Exclusive 80s flashback video is Now Showing on this page (play button below) and on our YouTube Channel. Come on shout and breakout as we go back to re-live all the memories of the totally awesome 80s.....
Celebrating 10 Years Online
www.hollywoodteenmovies.com has been around now for over 10 years. To celebrate our anniversary year we have created 2 special promo videos that capture the essence of teen movies throughout the decades. Sit back, relax and let the memories flashback as we take you on 2 different journeys through 70 amazing years of teen movies. Video 1 titled "Hollywood Teen Movies 70 Years Of Memories" is a pictorial cavalcade of teen movies from the 1940s to the new millennium. Video 2 titled "Teenager in Love" focuses on the romance element that is prevalent in many of the great teen movies. These Exclusive videos are Now Showing on this site & on our YouTube Channel. Enjoy the rides.....
70 Years of Memories
Teenager In Love
**********************************************************************************************
*********************************************************************************************